MEN'S FELLOWSHIP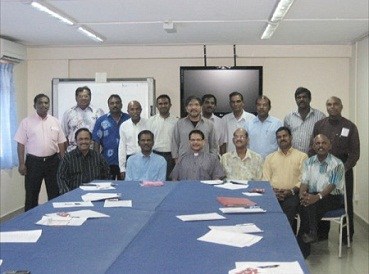 Seated - James Henry, Silas Pavanasam, Rev Dr Vijendra Daniel, Walter Premraj, Balakrishnan, James Ponniah
Standing - Jesudass Navamney, Anthony John, Daniel Rajamoney, Peter Rajamanickam, Chandra Bogar, Mohan Jacob, Jayasunthar, James Sivanathan, Kanathasan, Dev Asirvatham, James George
The Men's Fellowship of St. Barnabas Church, Klang was established on 23 rd June 2002 at their first meeting attended by about twenty members. The idea was mooted by then Vicar, the Rt.Rev.M.E.Ponniah. Mr. Chandrasekar Rajamani was elected as the protem Chairman then.
The purpose of forming the Men's Fellowship was to encourage our men to play an active role in the ministry of the church. The first activity was a camp outing at the Bukit Cahaya Park, Shah Alam, where about 20 members attended. In the year 2004, Mr.James Henry was elected as the President. During this time Lay Ministerial duties were introduced and the men took turns to be Ushers & Greeters on Sunday services.
On May 7 th 2006, the M.F. had their 1 st official AGM in the church conference room. During this AGM, we decided to come under the "umbrella" of the church and represented in the P.C.C. This time Mr. James Ponniah was elected as President, Mr. James Henry as the Vice President, Mr. Wilfred William the Secretary and Mr. John James as the Treasurer.
Mr. John Selvaraj helmed the President's post for the year 2007 and 2008. We used to have monthly meetings at the homes of members on rotation basis. Members took turn to share bible meditation during the meeting. This was to encourage spiritual growth development in our walk with the Lord. Our fellowship organized many activities. Some of them were, Spouse Appreciation Day, Seminars, Visit to Orang Asli Settlement at Gopeng and Gotong Royong to mention a few. The opening of our M.F.Book Store in May 2009 was another milestone which has been managed by our fellowship. Credit goes to Mr. James Henry and team for their dedicated work. Mostly, Christian books and gift items are sold to church members where they are given a 10% discount. We also had a Men's Fellowship Camp at Cameron Highlands in October 2009 where 15 of our members attended the event. The present President of our Men's Fellowship is Mr. James Ponniah, Mr.Ganesh Kumar the Vice President, Mr. James Henry the Secretary and Mr.Peter Rajamanickam the Treasurer. Of late, we had a motivational talk on the subject "The Christian Family" presented by Mrs. Mary Bernard Verghese where 40 people attended and benefited from it.
We presently have a total membership of 35 men and we meet in the church once a month on the second Friday. A subscription of RM 10/- for working members and RM5/- for retirees is collected monthly. We would appreciate more men of our church to join the Men's Fellowship and take an active part in the life of the church in general.
God will bless us as we serve HIM in different capacity for the Glory of God.